Description:
The new Coca-Cola dispenser and the Freestyle app offered users a new and interactive way to engage with its brands. The app allows customers to save their mixes, share them on social networks and be rewarded with Coke and the other portfolio products.
Goal
The intention was to enhance the user experience by offering more control and customized features to its consumers. Coca-Cola targeted the commercial audience and created the app in order to keep the engagement at the highest levels. Closely following the studies, the Coca-Cola team took into consideration that consumers are more likely to choose a custom mix feature enhanced by new technologies and modern design.
Nick Bishop, 38, Coca-Cola's VP-consumer connections said: "We're contemporizing the Coca-Cola Freestyle experience with a new digital interface, which improves perceptions of Coke – and our customers – as an innovator and delivers a more engaging experience. And our mobile app enables fans to create custom mixes that maintain the consistent quality of every pour. The fact that every brand on Freestyle has its own carefully crafted recipe enhances that quality and builds consumer loyalty."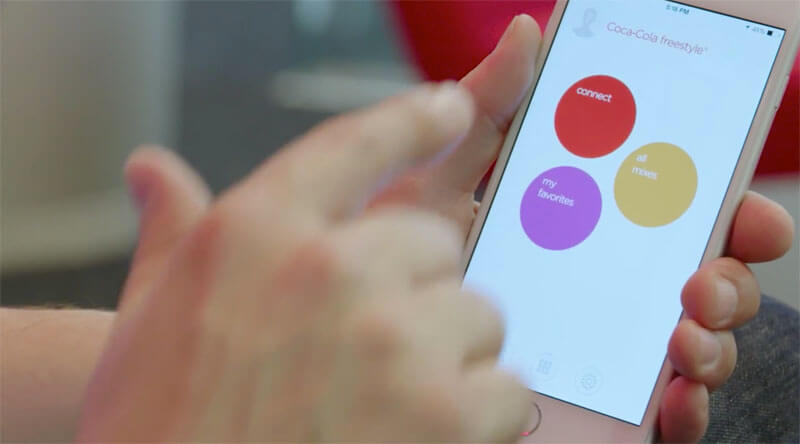 How it's made

Coca-Cola Freestyle campaign has a cross-channel mechanism gathering mobile and offline component – the vending machine.
The users' preferences explore the social component by involving the dating part between the mix lovers. They can share the sip also in the flesh, not only on social networks.
Mobile development
The app was developed for both the iOS and Android platforms. Besides customized experiences and sharing features, the app also allows consumers to benefit from promotions and discounts.

Campaign results
The app was widely adopted by more than 400 different retail and restaurant chains. The huge success translates into an extensive implementation of the technology and machines mic. The app had more than a million downloads, the app has been well-received by both Android and iPhone users.