Description:
Make some room for my app! This seems to loudly scream Taco Bell's marketing team with the launch of the ordering app. In a red ocean of apps and data, it's hard to stand up. This is the insight Taco Bell had in mind when it started the blackout campaign back in 2014. Probably one of the most disruptive digital campaign that year.
Challenge

…was to create hype around Taco Bell's mobile app campaign. The agency was asked to find the best solution for creating big fuss around it. It's so hard to race in the clutter of social media. The app can be used for ordering food for dining rooms at the offline restaurant but also for picking the food up from the drive-thru.
Strategy: How to grab the public's precious attention

Taco's social media results were good, but were shaded by those of the competitors'. Its Facebook page had 10,637,246 likes, Instagram - 4.8 million followers and more than 1.4 million followers on Twitter. But it was visibly outclassed by Starbucks and Chipotle.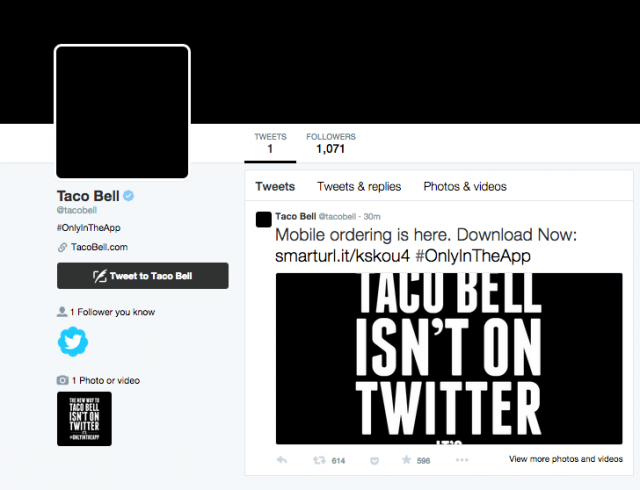 So, they envisioned a very clever strategy that involved a strong diminishing of attention from their other channels and a regain of popularity exclusively for the app.
Firstly, they got rid of the setbacks from their channels. Secondly, the gathered so much attention that they haven't been into the situation to fight for every grain of popularity with the other brands. They used the hashtag #onlyintheapp for all of their channels and a link to download it, both on iOS and Android.
Another smart move on Twitter too. They created another Twitter account called @totallynothere that kept the original Taco's account 1.4 million followers and reseted the @tacobell account to zero followers.
"We needed to do something right out of the gate that people would notice, and what better way to notice and drive people to the new way to Taco Bell than the blackout?" said Chris Brandt, Taco Bell's CMO. "We will continue to be active in social media, we will continue to be disruptive, we're not walking away from all of those channels where we've built up a great discourse with our fans." (Src: Adweek, Oct 30,2014)
"In the past when we launched products, we focused on the product, we focused on why it's so good, and we connected that to lifestyle—using social to bring those together," said Dave Marsey, Managing Director of DigitasLBi San Francisco, Taco Bell's digital agency behind the campaign. "In this case, what led us to #onlyintheapp is that it's a new way—these are new ways to experience Taco Bell." (Src: Adweek, Oct 30,2014)
How the Taco Bell App works
The app is a very good opportunity for users to customize their orders even along the purchase process. One of the main features is Rotate to Reorder that provides the customer with the possibility to put a new order or to make an update tot the previous one simply by right swiping.
"Today as food culture changes and generations grow up with smartphones, our customers seek restaurant experiences that fit their lifestyle," said Taco Bell President Brian Niccol. "We believe mobile ordering and payment is the biggest innovation since the drive-thru. Our new mobile ordering app is just the beginning of how we're using technology to break down the walls of our restaurants and become more transparent with our customers about our food."
Results

In less than a day, Taco Bell surpassed Google Maps, Spotify, Twitter and Gmail, according to the App Annie intelligence site. Furthermore, in 90 percent of the chain's 6,000 U.S. stores the orders were paid through the iPhone and Android app. They didn't reveal the number of downloads, but it's certain that they gave a strong direction and managed to scrap the competition.