The use of technology to open the hospitality world at just one click and create amazing experiences for customers via digital improvements. Also increase loyalty towards the brand. As they already said it: check in is so last year and their guests should totally embrace the future. This means that with just one scan of you iPhone, the room you had booked via mobile will open its doors just by scanning your iPhone.
So, there's only one app to run everything – the whole check in and check out process, everything happens in your phone, no personnel contact. Well, almost. We all need to be polite and at least say Hello! at the entrance, don't we?
Hilton integrated all the features already used in its 5000 hotels to one app Hero, consolidating the user experience. The brand succeeded in summing all the apps in just one single seamless digital service.

What does it offer?

Most of the actions moved to online, as digital check-in, opening rooms and maps. The category that most prefers this app are the discrete customers. They don't want to show off their presence so they seek for a subtle experience. There is not only a meet needs app, but one that anticipates them too. Hilton is the only group that has implemented this kind of app, consolidating numerous features in just one app and transferring the real-life hospitality experience into a digital flow. The app allows customers to choose their room and desired floor, away from the elevators or close to the vending machines. There is also Google maps integrated option, so the guests can see where their room is placed, what kind of view has, to the boulevard, or to the park etc. The app registers the preferences of the guests, so if they have a favorite room and it's available, they can select it through the app.

Smartphone as a digital-key
This feature allows users to unlock their room via their mobiles, check out, pay and event receive their receipt. This means a shorter wait time and an increase of guest satisfaction.
The results of the app were amazing. The app was praised in the press and multiple amazing reviews.
A 5-star app was called by critics.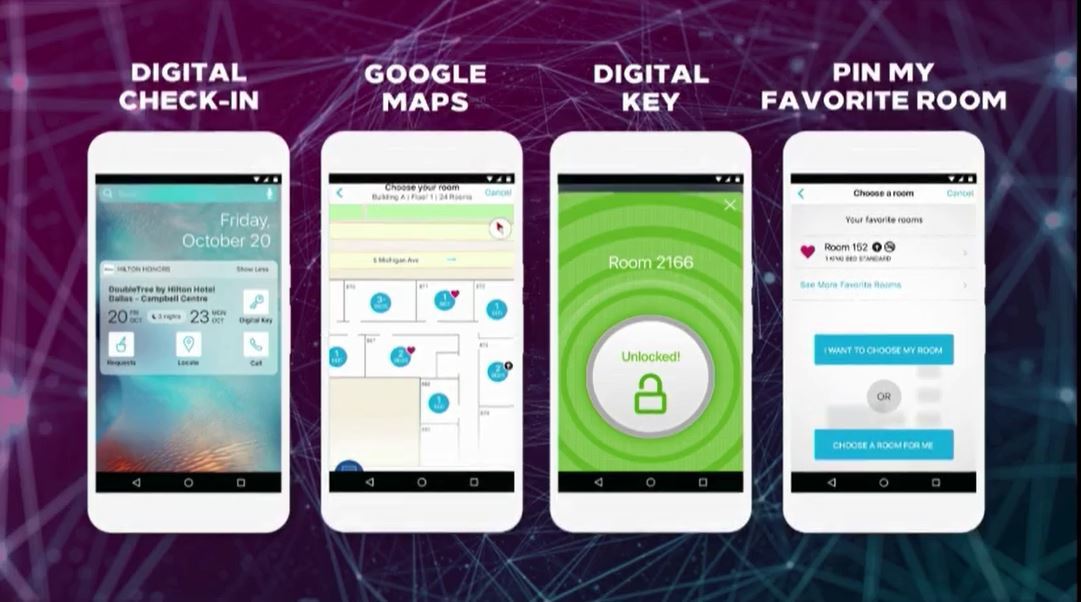 Even the room service was improved by the app. The food can be monitored through the app. Even the distance from the oven to the room is calculated.